Finding a reliable moving company in Las Vegas NM can be a crucial aspect of the relocation. You are left to choose wisely the right company and allow them to take care of the move. Don't underestimate the complexity of the relocation process. The best movers Las Vegas NM can ease up the entire procedure of the preparation and the transportation itself. Both moving and storage are important during the move. Thus, Pro-Move Logistics will certainly satisfy all your needs and requirements. Our trained staff, adequate equipment, top-quality services, and well-equipped storage units are what you truly need. Contact us today and reach success with one of the most reliable companies.
Why do movers Las Vegas NM deserve your trust?
Well, our hard work for over a decade and satisfied clients are proof that we deserve your attention. We are proud of our professional staff. Rest assured your belongings will be safe with us by your side. As a matter of fact, we offer a simple transition without complications. Both moving and storage services are at a high level. Moreover, additional services we offer are something that makes us one of the best in the market. We are ready to compete. You decide to whom you'll give your trust. The relocation with Pro-Move Logistics is destined to succeed. Then, why losing time? Get a free estimate. Certainly, you'll see quite soon the enormous benefits of relying on our team.
Our moving services are a combination of experience and professionalism
What to expect from movers in Las Vegas New Mexico other than knowledge, experience, skillfulness, and willingness to get the job done successfully. Our moving services are quite distinct compared to those of the other companies. Therefore, give us a chance to adjust our services according to your desires, needs, and possibilities. Opt for the best services.
All types of moving services will surely overcome your expectations
As our goal is your satisfaction, we are ready to meet your demands in every possible manner. Therefore, have no worries concerning your budget or timeline. Well-trained and experienced staff will make sure your items reach the final destination safely. Be that as it may rest assured your fragile, bulky, and other valuable items won't be damaged in any way. The variety of trucks, other specialized moving equipment, high-quality packing materials is the guarantee of our success.
Furthermore, we must mention that our local moving teams will do everything to correspond the services to your needs. Don't underestimate the importance of a reliable partner. After all, local moving is complex. That's is why our teams are always there for you.
Get the best storage services by hiring Pro-Move Logistics
Storage has become more relevant and required in recent years. With this in mind, we have improved the quality of our storage services. After all, our goal is to fulfill your expectations. As a result, you can use our temperature-controlled units, portable self-storage, and RV storage solutions. Moreover, our units are equipped with alarm systems. Thus, we guarantee safety in case of thefts. Also, we must mention that using gated and fenced perimeter our storage units are fully protected. Likewise, your possessions inside the units.
Furthermore, the great benefit of using our storage units is the fact that we offer all ground floor storage units. Hence, there's no need to carry anything heavy upstairs or downstairs. Therefore, opt for the type of storage best suitable for your needs.
We're especially proud of our RV storage
What may happen is that your neighborhood has rules that forbid keeping your RVs parked for a long time. Therefore, we are here to offer you the solution. Using our units, your RVs will be safe and clean as long as you need these services. As a matter of fact, we offer a range of parking options for both RVs and boats as well in our units. Furthermore, in case you want extra protection, you can opt for indoor climate-controlled RV storage.
Will it be hard to get used to Las Vegas in New Mexico?
Experience a true suburban feel in this lovely city in the county of San Miguel. In case you want to escape the crowds, Las Vegas in New Mexico is the solution with its 13,000 residents. One of the main benefits is definitely the costs. The overall costs of living are around 23,3% lower than the national average. The median home value is $111,700. Thus, you must recognize it is more than affordable living here. As a result, the livability score is above the average. Additionally, education is highly ranked on nationwide and statewide levels if we compare Las Vegas to other cities.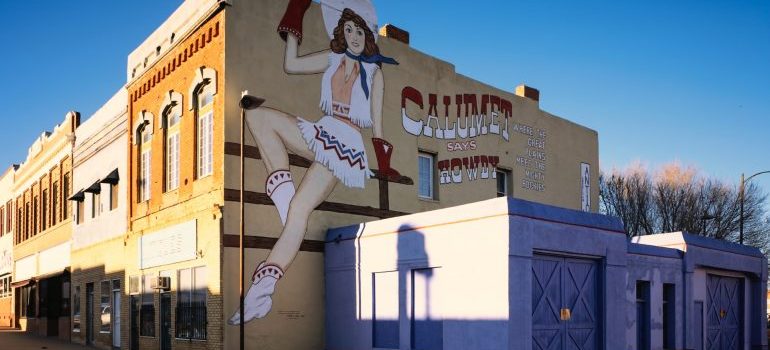 Nevertheless, there are certain things you must pay attention to. For instance, the presence of a higher crime rate. Moreover, a decline in the population number. Last but not least, the poverty rate is high. It's about 25,1%. Therefore, do your research beforehand. Prepare yourself for your life here.
Experienced and knowledgeable movers in Las Vegas NM invite you to enjoy the benefits of one of the best moving and storage companies
Overall, with one of the best movers Las Vegas NM, you're on a good way to reaching a successful relocation. As a result, you'll get your things undamaged at your new location. Also, we will guard your possessions at our storage units with utmost care. Of course, you'll be able to access them whenever you want to. Pro-Move Logistics is your precious ally. All you need to do is to get in touch with us today and we will place everything we have at your disposal.